Building Kindness i
n our Communities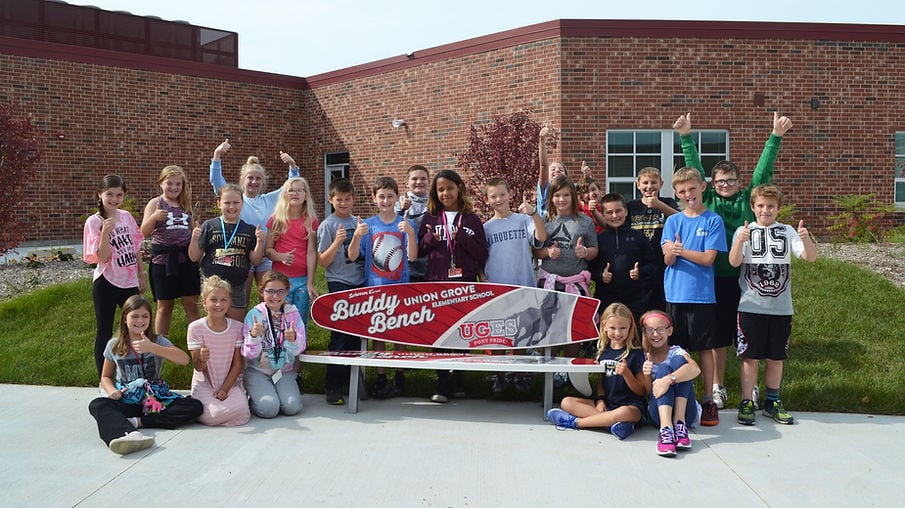 Building Communities Through Scherrer Cares
We embrace community impact and meaningful change at Scherrer Construction. That's why we founded Scherrer Cares, a non-profit, dedicated to giving back to our communities. Our donations support a variety of causes and organizations including food pantries, pet shelters, school programs, and local fundraisers annually.
In our commitment to build kindness, we initiated the Buddy Bench Program, an anti-bullying effort. Through this, Wisconsin schools receive personalized buddy benches, fostering kindness and nurturing friendships. Since the start of our program, Scherrer Cares has implemented over 100 benches into schools throughout Wisconsin impacting thousands of kids!
Scherrer Cares Buddy Bench Program
What's a Buddy Bench?
A refuge for kids facing bullying, fostering friendship through kindness. A tool for awareness, preventing bullying, and nurturing a positive environment.
How it Works
Scherrer Cares collaborates with schools, crafting Buddy Benches reflecting their identity. Schools introduce benches to students, driving anti-bullying initiatives. Empowering communities to make change.
Benefits for Your School
Creating safe spaces for friendships, eradicating loneliness. Combatting bullying, fostering awareness, positivity, and engagement within schools and communities. Cultivating responsible decision-makers.
Recent Buddy Bench Donations
What our Buddy Bench Recipients Say
"Unfortunately, bullying takes place in one form or another on almost every school campus. The Buddy Bench provides a visible symbol that this type of behavior will not be tolerated and that every student has a right to a safe learning environment, both physically and emotionally, when they enter our school buildings."
"Our Buddy Bench acts as an always present visual reminder to be kind. The Buddy Bench symbolizes making good choices, being inclusive, and taking care of one another. Having the bench on our playground is one more way to remind kids to make positive choices, and strengthens the school culture as a whole."
"Educating our students, truly means helping create individuals who can independently think deeper, analyze, and problem solve in both academics and social settings. These skills are crucial for their development, and for us, the buddy bench in an important piece to that intricate puzzle to help them be college and career ready, both as productive people and successful students."
INTERESTED IN A SCHERRER CARES BUDDY BENCH?
Contact us to get the process started!
Schools must be able to provide a vector file (.ai or .eps format) of graphics and specific Pantone colors. Once the school approves the bench design, production takes 8-12 weeks. When complete, Scherrer Cares will coordinate delivery with the school.
Become a Buddy Bench Sponsor
Companies or individuals can sponsor a buddy bench to a school of their choice with the ability to incorporate their name or logo into the design of the bench. This is an excellent opportunity to gain brand awareness while supporting a great cause.
Interested in sponsoring a bench? Email us at scherrercares@scherrerconstruction.com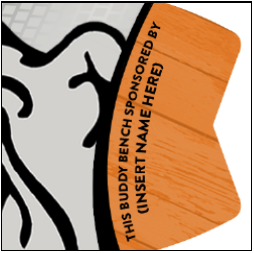 Annual Scherrer Cares Golf Outing
Scherrer Cares hosts a golf outing fundraiser each year to raise funds to give back to the community. Sponsors can participate at various levels, with attractive benefits at each level. We are also in need of live and silent auction items. Join us for a great day and a great cause to help build kindness in our communities!
Check back soon for next year's date!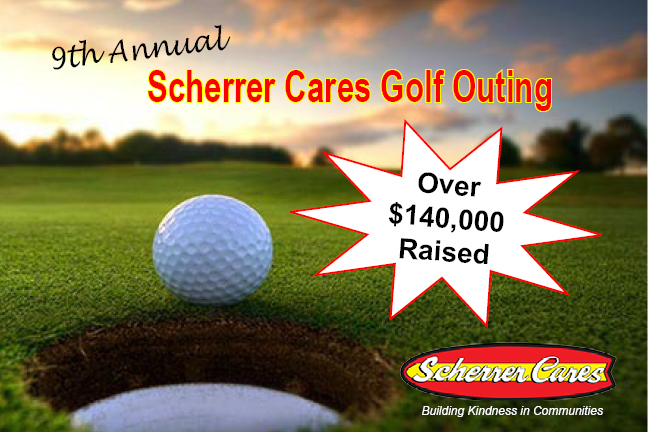 Donate Now
Scherrer Cares is a nonprofit organization that relies upon donations and sponsors to provide Buddy Benches at no cost to the school. We appreciate any donations individuals or organizations would be willing to give. Please send checks payable to:
Scherrer Cares, Inc.
P.O. Box 740
Burlington, WI 53105
Scherrer Cares is a 501(c)3, tax ID #47-2757965. All donations are fully tax deductible.